We arrived at about 11:30am last Saturday at Lake Harriet to find about 50 kubb players milling around 7 or 8 shoveled and painted kubb pitches out about 75 yards off the shoreline. Almost everybody had a beer in their hand and was chatting with their friends. They'd also constructed a snow man and started a small bonfire on the lake. Some nice touches we should consider for our next winter tournament.
John Sather picked out who we were right away and pointed us towards his sister who'd come up from Chicago to be here and help run the tournament. We paid our fees and hung around for until about noon when things started. I should mention that I didn't see anyone practicing even though most players were present at least a half hour before they started. This is your first indication that this group does things a little differently.
At this point I encourage you to read the info I put on in the Planet Kubb Wiki for more specifics about how Midwest Kubb Association tournament are run.
Around noon we all met at the snow man for a reading of the rules, which were incomplete, but I don't blame them. No one ever has time to really go over rules before a kubb tournament. After that we all picked slips of paper with numbers out of a stocking cap. We reported our team number to the tournament coordinator and she told us the name of our partner and assigned us a pitch. I should have been more excited when she told me my partner was "Destiny", but somehow I knew that I wouldn't be playing with "The hidden power believed to control what will happen in the future". Destiny was a skinny blonde girl in her early 20s who had played some kubb last summer, but never in the snow.
The 4 teams in our round robin shared a pitch. I believe all of the sets where Bex. I started out really strong in the first game. One of the guys on the opposing team threw his first baton completely side ways holding it in the middle. It was as "Helicopterish" as you could get and everyone who saw him do it corrected him right away, although I saw a lot of shots that seemed more that 45% off vertical and I didn't see anyone else get called on it. Their rule is just that you need to throw from the end. We beat that first team, but lost to the second one quickly. Our third match got down to a missed king shot, but that team also really hard on us about the order in which we threw and penalized a few batons for it. In hindsight, I hope the guy on that team was just giving us a hard time because he thought it was the only way he'd beat us and it may have been… 🙂
So with a 1 and 2 showing in the round robin, Destiny and I didn't even make it in to bracket play, but that was no reason to leave this tournament. I did run out to get some beer so I could fit in with the crowd a little more and returned to see that Eric's Team and Lee's Team had been making short work of their opponents. Anders and his teammate had more success than I did, but they were eliminated around the time I returned.
I should mention that even during round robin play, because teams were waiting to play on your pitch, several player would stick around to give you pointers or heckle whoever was throwing. I got a kick out of a recurring joke where they'd say say "Throw this one higher, now this one lower."
As the Semi-Finals started everyone huddled around two pitches. The teams were becoming much more evenly matched and with single elimination play, these games were getting intense. I feel like there was a lot more cheering, but also spectators calling players who got a little to close to the line with their "Minneapolis Step". There was just a lot of fun energy building.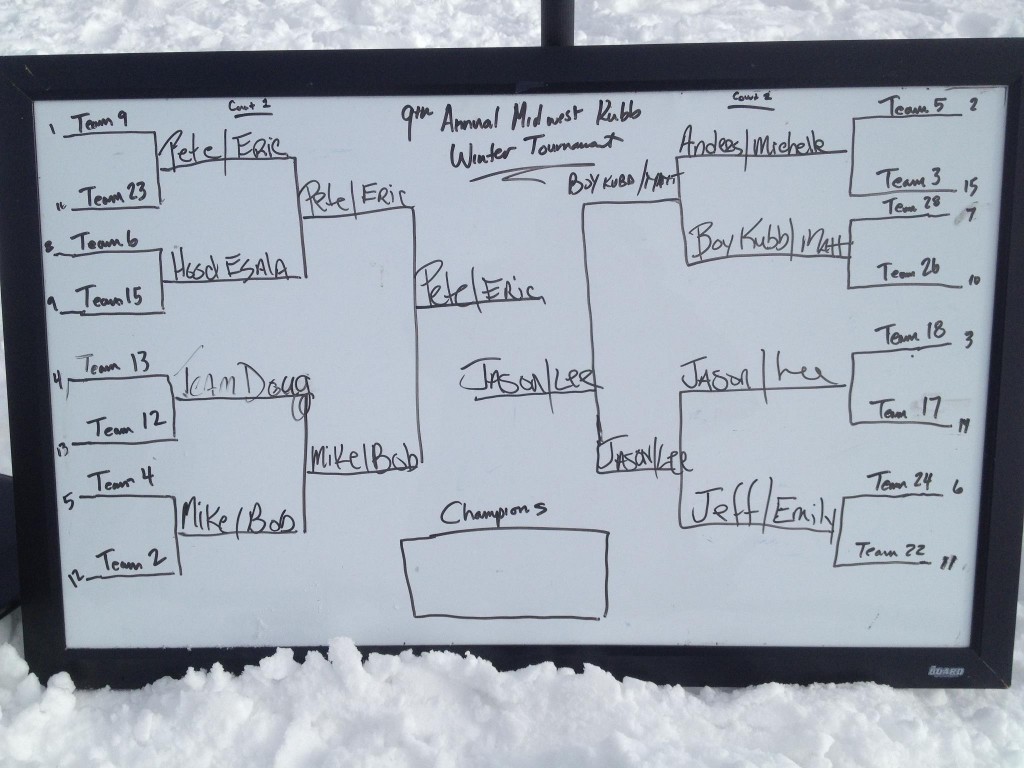 Eric's partner Pete was really good for a guy who'd never played in a tournament before had at least one friend who was coaching them through out the tournament and joined Anders and I cheering them in to the finals game. This different rule set also seemed to agree with Lee, who played some of his best Kubb. although anyone who's seen him play knows he's an underrated player. He also had the luck to be paired with a strong player named Jason Emery who'd been playing with the Midwest Kubb Association for years and read the rules at the beginning of the day.
I don't remember exactly how it went, but I think Lee and Jason just barely took the first game in the final match, potentially after a missed King shot. Eric and Pete fought back and won the second one. During the rubber match Jason's friends were taunting him from the sideline saying there was no way he could win because he'd never done it before. I was standing near Lisa the tournament coordinator and commented on all the heckling and it's tough to be playing in the finals with a bunch of close friends giving you a hard time. I actually think Eric and Lee had an mental  advantage because no one really knew them. Despite all this Jason was making most of his shots and Lee was in the zone.
I wish I had some video of the finish. I'm probably bias because I knew members of both teams pretty well, but it was as exciting as the end of any Kubb tournament I've ever been too.  I'm not sure if anyone was taping but there are some photos from last weekend up on the MKA Videos and Photos page.
On Monday I mailled John at MKA to thank him for letting us play and asked if it'd be alright if we tried to join them again sometime. He was glad we'd come and gave me info about how to keep in touch with them. I guess that Lee's partner Jason is running a tournament in Minneapolis sometime this spring and I'd think he'll be happy to take as many people as I can get together for that. I'll keep everyone in the loop on Facebook.